Six local artists, dancers and directors pick the essential local spots and dishes you've gotta try
---
From homestyle suburban standbys to limited-time pop-ups and everything in between, local artists, dancers, directors and more choose the Toronto Filipino restaurants and dishes you've gotta try.
Fly Lady Di
Diana Reyes, aka Fly Lady Di, is a dancer, choreographer, DJ and multidisciplinary artist. You might have seen her dancing with musicians Maylee Todd or HanHan or DJing at the ROM or Soho House. This Friday (October 15) you can catch her on CBC Gem as part of Luminato's Director X and Tanisha Scott collaboration New Monuments.
Lamesa (634 St Clair West) is the OG. So many people in the Fil-food scene have come from there. During the summer they were doing these weekly Sunday pop-ups at Superfly (5 Brock) in Parkdale. It's dope. Owner Les Sabilano's girlfriend Renee [Crawford] spins a bunch of nostalgic 90s hits, great vibes, people stop by to pick up takeout or come and chill. It's a neighbourhood hang, almost like a reunion. 
The last time I was at one of those, I had their halo-halo. That's such a nostalgic dessert. I'm a big fan of anything sweet and creamy. Whenever I'm in Scarborough, my mom always makes it for me. She has this machine that churns ice and she has all the ingredients in the cupboard. There's shaved ice, ube [purple sweet potato] ice cream. It's so colourful and full of textures. Not everyone likes it because Filipinos have a weird palate when it comes to dessert. There are different kinds of jellies and red beans and condensed milk – all these little bits. It's like a little journey of memories. When I went to the Philippines for the first time in my 30s, I was like "OMG, halo-halo is everywhere!"
I always leave Tinuno (31 Howard) needing to be rolled home. I LOVE that place for their kamayan meal, where they lay down banana leaf and you eat with your hands. That includes BBQ skewers, which are always a winner for me. They remind me of swimming at my Uncle Cesar's pool in Mississauga. (Every Filipino has an Uncle Cesar.) Once I smell the char, I'm back there. My feet are on the concrete on the side of the pool eating skewers and corn and rice and halo-halo.
Nina Lee Aquino 
Factory Theatre's outgoing artistic director Nina Lee Aquino was born in the Philippines, but she spent the first six years of her life in Houston, Texas, where her mother was an ambassador. She and her family then returned to Manila before moving to Toronto for another post when Aquino was 17. That diplomat upbringing meant the Philippines was always close by, including at the dining room table. So she's happy the cuisine has been gaining popularity, although she wishes Lamesa returned to its Queen and Bathurst location. 
One of my favourite Filipino dishes is kare-kare – a stew that's often made with oxtail but I like the beef version – with veggies in a peanut sauce. Casa Manila (879 York Mills) makes a real home-cooked, traditional version. I love the way they cook it. I'm sure it's influenced by a lot of other countries, which we kind of copied and made it our own. It's like our take on curry. You put it over rice, and because the peanut sauce is a bit sweet, you add some fish paste over it so there's a shot of salt. My dad makes a great version. It's not a fancy dish, but it's not everyday, either – you might serve it at the end of the week, or if your kids got good grades. 
I get the occasional craving for the spaghetti at Jollibee (334 Yonge and others). When I describe it to non-Filipino friends, they're either fascinated or grossed out. Our spaghetti isn't the Italian kind. It's reflective of our history – we've taken western things and made them our own. Because we're a poorer country, a lot of the lower and middle classes had to improvise, so instead of using tomato paste or sauce we used ketchup and chopped up hot dogs. It's sweet and salty, which I love. I've been to some of the best Italian restaurants, but I'll always crave Filipino spaghetti. 
Derrick Chua
Although he's of Chinese ancestry, entertainment lawyer and producer Derrick Chua was born and raised in Manila before coming to Canada at age 10. So Filipino cuisine represents comfort food to him. He's happy that new chefs have been doing modern takes on traditional dishes, but he's a fan of the old-school classics.
I love the crispy pata at Max's (707 Markham). It's a pork hock that's deep fried until it's incredibly crisp. Inside, the meat is tender and juicy. It's served with a lechon sauce that's made up of pork liver, vinegar, sugar, bread crumbs, onion and garlic.
For me, there's a real nostalgia factor to this dish whenever I go back to the Philippines. My family has a maid who's been with them for about 40 years. She's an amazing cook and makes crispy pata for me whenever I come home.
Pantayo
Pantayo are a group of diasporic Filipinx-Canadians who mix kulintang – a form of traditional percussive gong music from the Southern Philippines – with elements of R&B and punk. Their band has always entwined with food – their studio meetings for their sophomore record always start with a meal, and they had their 2020 Polaris Prize celebration at Kanto in the Junction. Pantayo's Kat Estacio talked about a few spots that thrive on word-of-mouth.
There's this association with Filipino food, or racialized cultural food in general, that the best version of it is home cooking and that it's not supported by brick-and-mortar restaurants. So it makes sense that there are so many businesses working out of kitchens, especially with the pressure of COVID. 
Kusinera (chef Keanu Francisco's bi-weekly pop-up at Sara at 98 Portland) has stone crab or hipon (shrimp) alavar. Alavar sauce [made of coconut cream, curry and spices] is very specific to a region close to water [Zamboanga, in the south Philippines]. You can get it in bottles or preserved versions, but even then it's not that common in North America. So to see it on a menu in Toronto is really enticing. They also have a chicken piaparan dish that I encountered for the first time when I did a trip to a Muslim section of Manila. It's a flavour profile that even some people from Manila haven't tasted. 
Senyorita Filipino Streetfoods (748 Wilson) has amazing classics. They have this street food sampler, and you can get it for a solo serving or a barkada platter. A group of friends or a crew, that's your barkada, and the food is enjoyed as a group. They get the flavour down, they get the texture down. We've had a hard time finding fish balls that are like how they make it in the Philippines – how it's fried, the ingredients, most importantly the dipping sauce. In Filipino culture, dipping sauces are part of making things your own, so you can personalize the dish for whoever is consuming it. 
Colin Asuncion
Colin Asuncion is an actor (Box 4901), musician (Asian Riffing Trio) and baker who is one of the most popular contestants from CBC's The Great Canadian Baking Show. Growing up in Scarborough, he didn't go out to Filipino restaurants much since his parents both love cooking – his father even owned and operated a restaurant called Quiapo Quiapo. 
One Filipino dish I love is the kamayan feast from Tala – I think they're closed for indoor dining right now but they do take-out and delivery out of Tinuno (31 Howard). It's essentially a smorgasbord of grilled meats, seafood, fruits and vegetables, served over rice. It has grilled pineapple, shrimp, octopus, okra and a skewer of sweet and salty BBQ pork, which is a staple in Filipino food. Kamayan translates as "by hand," and it comes in a box and is great for sharing – it's like a buffet to be eaten with your hands. It's so exciting, because there are so many colours and so many smells and textures. During the pandemic, I've ordered it a couple of times. It comes in two sizes and I like the one for two – I live alone, so I eat it over the course of a day or two. 
Another dish I love is pancit palabok from Remely's (4830 Sheppard East) in Scarborough. It's noodles in a shrimp sauce, topped with boiled eggs, pork, shrimp and fried garlic. Like most Filipino cuisine, it's comforting and very salty. Filipino cuisine is a lot of salt, pork and creamy, stewy textures. My parents never cooked it when I was growing up so the first time I had it was at Remely's for a catered affair. It's so comforting, but maybe not for the health-food crowd.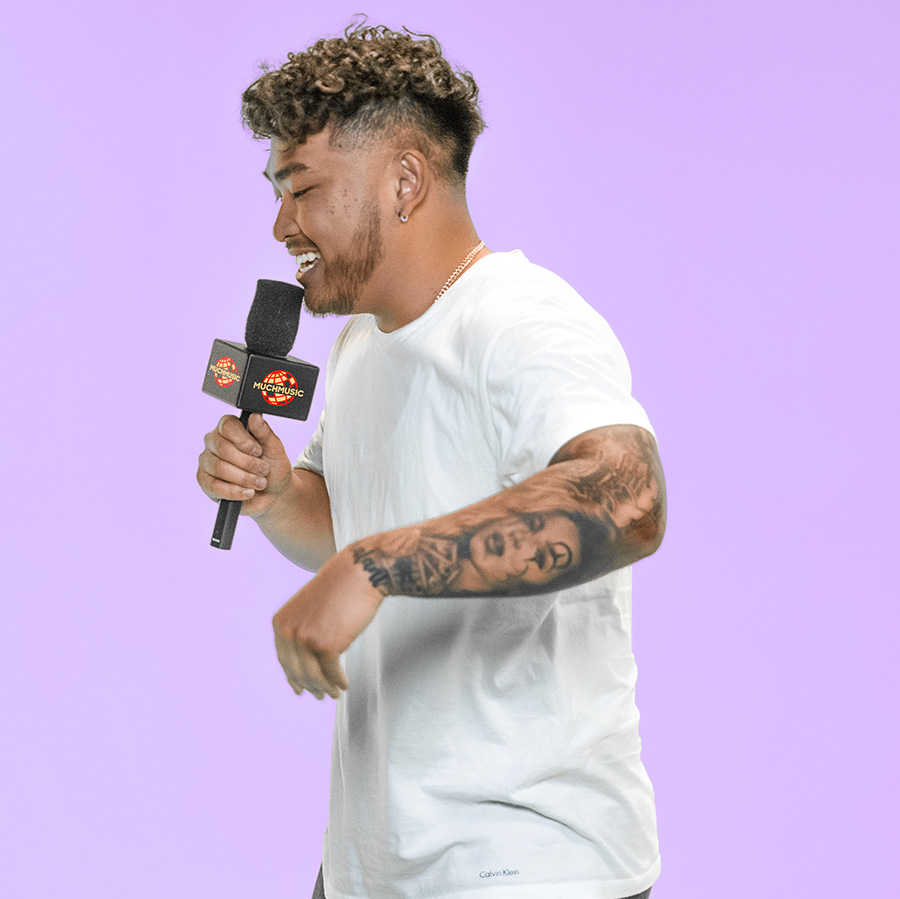 Teddy Tong
Teddy Tong is a VJ on the recently rebooted TikTok version of MuchMusic. On his way to his VJ dream, he gained traction for his Instagram skits about growing up as the twentysomething son of Vietnamese and Filipino parents.
My parents don't actually cook a lot, which is maybe rare. So there are places like Max's (1520 Steeles West) and Sampaguita Village (322 Wilson), which is what we'd bring home when we get that feeling for those standby dishes like lumpia or kare-kare. 
Lechon kawali [a deep-fried pork belly dish with crispy skin] is super unhealthy, but it's delicious. Now I know to treat it like a treat and not have more than one or two pieces. It's crunchy and juicy and has a vinegar dip; it's really good with rice. Just know how you'll feel afterward. Maybe plan a workout for after.
Sinigang is this unbelievable stew with a sour, savoury taste. You get the meat, like pork or really soft beef, and it's loaded with vegetables. It comes with white rice, and then there's the sabaw, which is like a soup, and you pour it on top and the rice soaks in the soup. It's a good remedy when you've had a long weekend. 
Read next: Lamesa is on the vanguard of Toronto's downtown Filipino food explosion
>