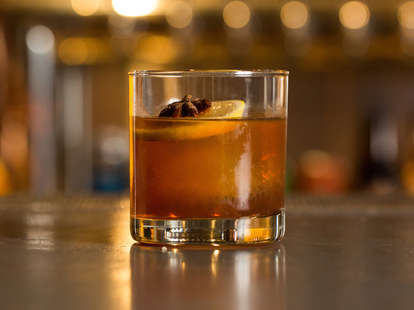 Photo by Cole Saladino for Thrillist
Whiskey is damn fine on its own, and there's nothing wrong with enjoying it neat or on the rocks. That being said, sometimes an easy cocktail is in order to smooth out the flavors of a budget bottle, to impress a guest with your bartending prowess, or to simply mix it up, literally.
But making a great cocktail doesn't always mean outfitting your bar with enough beakers and droppers to give Gus Fring pause. Sometimes you need just three ingredients, as is the case with these ultra-simple, three-ingredient whiskey drinks.
Hot toddy
Hot toddies are great when you're sick, and even better when you feel fine and just want a delicious hot beverage with a kick. Opt for any whiskey that's not too petey: American, Canadian, Irish, or Scotch will do just fine.
¼ lemon
1 tablespoon honey
2 ounces whiskey
Squeeze the lemon wedge into a mug and leave it in the bottom. Add honey, whiskey, and top with hot water.
Manhattan
This classic cocktail relies on sweet red vermouth and bitters to draw out the complexities of a spicy rye whiskey. You can change up the base spirit to your whiskey of choice (bourbon, for one), and likewise feel free to play around with different sweet red vermouths, adjusting the recipe depending on the sweetness level. The one thing that should stay in tact is the Angostura bitters, whose unique flavor profile is a must for any Manhattan.
2 ounces rye whiskey
¾ ounce sweet red vermouth
2 dashes Angostura aromatic bitters
Stir all ingredients until chilled, strain, and serve straight up.
Old Fashioned
This classic drink has been a lifesaver for those who just want to drink a ton of whiskey without any fuss. A touch of sugar and bitters accent a glass of whiskey on the rocks, and the boozy concoction that otherwise may be indicative of a day-drinking problem has been transformed into a classy cocktail. While modern-day mixologists get precious about method and historically accurate ingredients, this drink never took itself too seriously: Just mix a bit of sugar (cubed, crystalized, or liquid) and bitters, add whiskey, pour over rocks, sip, and repeat.
1 sugar cube
2 dashes Angostura orange bitters
2 ounces bourbon
Combine sugar and bitters in the bottom of a glass until the sugar dissolves, fill the glass with ice, add whiskey, and stir to combine.
Boulevardier
It's basically a Negroni—minus the gin, plus the whiskey. Some mixologists say the Boulevardier tastes smoother and more well-balanced than its gin-based cousin, but we'll let you do the mixing (and drinking) to decide that for yourself. You can also get creative and play around with rye or bourbon for slightly different flavors.
1 ounce rye or bourbon
1 ounce Campari
1 ounce sweet vermouth
Stir all ingredients with ice and strain into a chilled coupe glass. Garnish with a lemon twist (if you use rye) or an orange twist (if you use bourbon).
Whiskey sour
Sours have nothing to do with "sour mix," the neon liquid you get in cocktails at karaoke bars, (which are special in ways other than their ingredients). Sours are a category of drink that hit all the right flavors: boozy, sweet, and tart. They follow a 2:1:1 ratio of two parts spirit, one part sour, one part sweet. Any whiskey will do for this simple shaken classic. A mellow, not-too-smoky blended Scotch does the trick nicely, too.
2 ounces whiskey
1 ounce freshly squeezed lemon juice
1 ounce simple syrup (or honey, or agave)
Shake all ingredients with ice until chilled, strain, and serve straight up.
Blinker
With some spice, pucker, and sweetness, this cocktail is sure to please the whole crowd (or just yourself, if you're feeling extra-fancy while watching Netflix). The original recipe from the 1930's called for grenadine instead of raspberry syrup, but we think the fresh berry flavors really complement the rye (make sure you go with a strong, good-quality one). 
2 ounces rye
½ ounce grapefruit juice
¼ ounce raspberry syrup
Shake all ingredients together in a shaker with ice. Shake, then strain into a chilled cocktail glass and garnish with a grapefruit twist.
Ginger highball
A whiskey highball is an old drink made up of whiskey and seltzer, popular among early-20th-century Brits. This ginger-spiced and lemony version is a bit more approachable, well suited to a casual weeknight or the blurry hours after last call forced the party back to your apartment.
2 ounces whiskey (any)
2-3 ounces ginger ale
3 lemon slices
Layer ice and lemon slices in a tall glass (your date will appreciate the fancy presentation), pour in whiskey, top with ginger ale.
Spiked Southern tea
This boozy drink works equally well as a hot or iced beverage, and whether or not you use words like "high falootin'" to describe fancy cocktails. Other whiskies are fine to use, but the sweetness and maple undertones of bourbon taste the most authentic. Consider pre-batching an iced version to enjoy during summer picnics, rooftop parties, and porch sitting. Preferably on a rocking chair.
2 ounces bourbon
1 tablespoon real maple syrup
4 ounces tea (black or rooibos)
Stir all ingredients to combine, add ice if desired.
David's Dublin lemonade
The water of life brings everything to life, including your glass of lemonade. The tangy lemon mixture perfectly balances out the malted caramel flavors in Irish whiskey, and soda water adds refreshing carbonation. To make your own fresh lemonade, use equal parts lemon juice and sugar, and 2 parts lemon juice to 1 part water.
2 ounces Irish whiskey
4 ounces lemonade
2 ounces soda water
Build ingredients in a mason jar and garnish with a lemon wheel.
Bourbon vanilla shake
Oh dairy and alcohol, you hurt so good! This delicious dessert/cocktail is best left to those who can exercise a bit of self-control—too many of these and you will definitely regret it. If you don't trust yourself, make them ahead of time and freeze into individual popsicle molds as a form of portion control, and also a form of looking like a badass.
3 ounces vanilla ice cream
1 teaspoon vanilla extract
1.5 ounces bourbon
Blend all ingredients until just combined, try not to get brain freeze.
Mint julep
Nothing pairs better with ridiculous hats and gambling than a frosty mug of bourbon, which is why this drink ended up as the official beverage of the Kentucky Derby. The cool crushed ice and refreshing mint make this a surprisingly efficient heat quencher, even though it's mostly bourbon. If you can't find pre-crushed ice, it's worth it to smash some up with a mallet and a plastic bag, which incidentally can help blow off steam if you find yourself on the losing end of a literal or proverbial horserace.
5 mint sprigs
½ ounce simple syrup
2.5 ounces bourbon
Muddle the mint with the syrup until it has released it's minty goodness in the bottom of a tall glass, add bourbon, fill glass with crushed ice, and stir until the glass becomes frosty.
Irish coffee
Better than bulletproof, this whiskey-spiked coffee is the drink of true morning champions. The combination of warm and calming whiskey, invigorating coffee, and nutritious cream is basically a meal, and will give any good hangover cure a run for its money, even ramen. Try an iced version as a warm-weather afternoon pick-me-up.
2.5 ounces coffee
1.5 ounces whiskey (preferably Irish, but whatever)
½ ounce cream
Combine all ingredients in a mug, stir gently, say good morning to a fantastic day. Repeat until you say goodnight.
Tess Rose Lampert is a Manhattan-based philosopher-turned-drink expert who spends her nights grappling with tough decisions like what to pair with Thai takeout and Netflix binges. It's often mezcal. Follow her to south-of-the-border pilgrimages: @TessRose211.
Brooke Sager is a contributing writer for Thrillist. Follow her winey adventures on Instagram and Twitter.