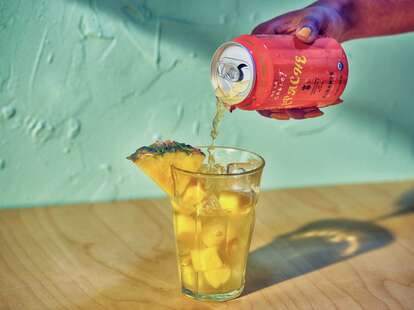 Pineapple spice tepache | Photo courtesy of De La Calle
Pineapple spice tepache | Photo courtesy of De La Calle
A simple fermented drink, tepache is a combination of pineapple rinds and brown sugar. "It's a simple drink that anybody can make at home," says Rafael Martin del Campo, co-founder of De La Calle, a canned tepache brand. "I grew up making this drink in the kitchen counter with my grandma."
The ancient beverage originated with indigenous groups in Mexico. Several variations of it exist throughout Mexico (some with quince and apple, for example), but it's common to find pineapple tepache sold on the streets where it's packaged in a plastic bag with a straw.
De La Calle, which means "of the street," was first introduced in 2021. It's the brainchild of Martin del Campo, a native of Mexico, and Alex Matthews, who became smitten with the beverage on visits to the country. They connected through a mutual friend and together they decided to put a modern twist on tepache.
"We took multiple trips to Mexico and tried hundreds of tepache," says Matthews. "Whether it's from a roadside stand in Oaxaca to a market in Mexico City to trying it in Enrique Olvera's restaurant, Criollo, they're serving it."
To modernize it, Martin del Campo suggested putting it in a can and adding carbonation. With a background in food science technology and culinary arts, he spearheaded the recipe development. "We tried to keep as many of the traditional flavors from Mexico as close as possible," he says. "So we inspire our flavors based on different regions in Mexico."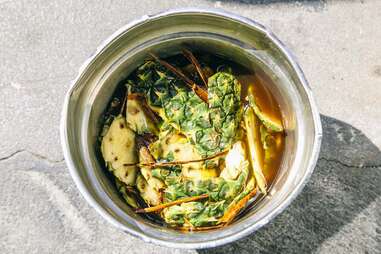 One of De La Calle's flavors, for example, is Chamoy. Chamoy is a condiment in Mexico typically made with dehydrated fruit, chilies, salt, and sugar. "You see chamoy everywhere in Mexico," Martin del Campo says. "I haven't seen any other soft drink that has chamoy flavor in it. So this is what we wanted. To innovate and explore different flavors that we can offer to the people."
Other flavors in the lineup include Prickly Pear Cactus and Tamarind Citrus. "Tamarind is one of the flavors that reminds me of my childhood," he says. "I grew up going to the beach, to Acapulco, every summer or almost every summer. You would buy tamarind candies and tamarind paste in the market all the time."
Making tepache at home is a matter of steeping the pineapple rinds in water, brown sugar, and spices in a jar or covered pitcher for three to five days (it'll take less time in a warmer climate).
"When the natural cultures of the tepache ferment the sugars in the fruit, it converts the sugars into carbon dioxide," Martin del Campo says. The result is an effervescent drink with a flavor that he describes as fruity. "It's pretty sour and tangy," he says. It also happens to have some probiotic benefits.
Tepache will always remain a classic Mexican drink—one you can make on your own or enjoy within the neighborhoods of Mexico. But bringing this version of it to the United States market has been exciting for the founders.
All the while, the goal is to stay "as authentic and true as we can be to our origins," Matthews says. "We are doing it on a larger scale, but it is still made in the traditional way."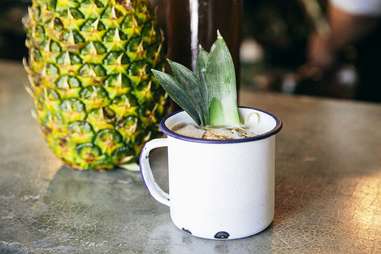 Homemade Tepache Recipe
Ingredients:
• 1 pineapple
• 2 cones piloncillo sugar
• 2 cloves
• 2 black peppercorns
• 4 cinnamon sticks
• Distilled water (Note: However much pineapple juice you get from your pineapple, use half that amount of water.)
Directions:
1. Remove the rind, leaves and core from the pineapple, and set aside. Juice the pineapple and measure the total volume of the juice. Reserve the juice as well.
2. Add the distilled water (half the amount of juice you got from your pineapple) to a large stockpot. Grate the piloncillo sugar into the water using a microplane or a cheese grater. Cook until the sugar has fully dissolved. Cool completely before moving onto the next step.
3. Combine the pineapple juice and scraps with the cooled sugar water, cinnamon and cloves in a large container. Cover with a large square of cheesecloth to prevent debris from falling into the container. Let ferment for about four days at room temperature.
4. After four days of fermentation, move your tepache to the refrigerator for an additional three days.
5. Strain the tepache through a fine sieve. Using a muddler, mash the remaining liquid from the leftover pineapple rinds. Add this additional liquid into the strained tepache. Your tepache will keep indefinitely if refrigerated.
Lia Picard is an Atlanta-based journalist writing about food, travel, and a variety of other topics. Her work appears in 
The New York Times
,
The Washington Post
, 
Wine Enthusiast
, and 
CNN Travel
.