We live in a golden age of craft brewing, one where more than 8,000 breweries are currently pouring everything from juicy hazy IPAs and tangy goses to traditional Belgian ales and, believe it or not, session-style stouts. Sure, there are the punch-to-mouth double IPAs—they're not going away, neither are the hazys—but classic styles and beer-flavored beers are making an unabashed comeback on taps everywhere. The 30-plus breweries on this list range from old-school favorites making new waves to up-and-comers offering destination-worthy pours. As chosen by our own brewery brain trust of beer minds, here are the best breweries to grab a pint right now.
Las Vegas, Nevada
This Arts District brewery gets its name from "Able" and "Baker"—the first two nuclear bombs dropped in the Nevada desert. The decor reflects the theme, paying tribute to the state's role in the Atomic Age. Yet the place is much more than a gimmick. Able Baker Brewing is a fun social spot with long wood tables and garage doors that roll up to an outdoor patio. Food is served from the Arts District Kitchen, a walk-up counter with a menu that changes frequently. Choose from more than 30 beers on tap, including collabs with former Golden Knight Ryan Reaves' 7FIVE brand (best known for the Training Day golden ale) and Chris Kael of Five Finger Death Punch (a barrel-aged dark Impale'd Ale). The Atomic Duck citrus-forward IPA remains Able Baker's signature beer, while the Radioactive Duck IPA balances a fruity finish with the bite of serrano peppers.
Los Angeles, California
One of the latest additions to LA's brewing scene brings both beer and cider to Lincoln Heights, with a large patio to enjoy them in. Opened by husband-and-wife team Ben Farber and Chelsey Rosetter, Benny Boy brews beers in the old-world tradition, which Ben learned during an apprenticeship in Belgium. As a new production, the beer menu is relatively small but diverse, with beers ranked from light to dry and ciders ranked from dry to semi-sweet, including the option to make your brew a Snakebite—a half-pint of beer with a half-pint of cider poured on top. The patio also hosts rotating food pop-ups from barbecue to pizzas.
Portland, Maine
Forget all those comments about Portland being the new "hot food and brewing" town: New Englanders have known this to be true for the better part of two decades by now. And it's thanks in part to white-hot breweries like Bissell Bros. that its reputation continues to grow with every can release that rolls out of the fermenters. The taproom is in full swing with fresh can drops of crowd favorites like the Substance, a super juicy NE IPA, and Precept, a crisp German-style pilsner. Most of all, it's easiest to revel in the fact that the hype around this place isn't just relegated to haze-craze fanatics looking for a juicy one-off release.
Albuquerque, New Mexico
Bow & Arrow proves that with better culture you get better beer. Founded by Dr. Missy Begay and her wife Shyla Sheppard in 2016, Bow & Arrow stands out in more ways than one. The pair are both Native Americans and, as a queer, married couple, they stand out from the bearded, white male demographic of the beer industry. By simply reflecting their landscape they began to integrate heritage ingredients from foraged wild hops and native cultivated yeasts, to herbs, flowers, and roots indigenous to their area. Some of the beer offerings are approachable, meanwhile more eccentric styles are executed flawlessly alongside stories that ring authentic to the people who make it.
Asheville, Charlotte, and Raleigh, North Carolina
What happens when couple Doug and Jess Reiser from New Orleans team up with friend and business partner Tim Gormley? A brewery tucked up in the mountains of North Carolina where they've since expanded into four taprooms, the latest decked out with a barrel-aged producing facility, a 600-person music venue, chef-minded food, a massive rooftop, plus a wine and cocktail bar. But let us remember the beer: an inaugural saison dubbed Pitchfork, Surf Wax West Coast-style IPA, a forthcoming foudre-aged Mexican lager, six variants of the Skillet Imperial Stout often served with a fresh donut as a garnish, and a plethora of other IPAs, dark beers, sours, and lagers pouring throughout the year. Honoring NOLA's appreciation for the afterlife, the so-named Burial brewery is going strong—any thoughts of it slowing down can be eternally put to rest.
Grand Rapids, Michigan
While Grand Rapids is nationally renowned for its concentration of breweries per capita, City Built is truly a standout. Owner and stellar brewer Edwin Collazo, wife "SweetK," and their festive crew are all about hospitality. In a vibrant interior that reflects Collazo's Puerto Rican heritage, find food that's equally lively: tostones, pastelillos, arroz con gandules, tacos, and more. Then there's the beer. Two of the most popular creations include the crisp Prague Underground Czech pilsner and the hophead standout Werewolves of Michigan West Coast IPA, but there's always a demand for the brewery's eccentric approach to sours and stouts. This brewery is all about representing their environs, diversity, education, creative expression, and overall providing a community-driven, palate-pleasing escape for everyone.
Seattle, Washington
A sudden downpour of copious rain—a deluge. This is a cloudburst. And at the brewery for which it's named, the farmhouse saisons and oyster stouts and crispy pilsners that award-winning head brewer Steve Luke puts forth drenches you. Luke pulls no flavor punches at his recently named Great American Beer Festival Brewery of the Year. Find the always-on-tap Happy Little Clouds, a contemporary American-style pilsner so refreshing it feels like a plunge into the frigid Puget Sound waters. But it's perhaps not a Seattle brewery without a fair amount of IPAs—from wet-hopped to West Coast, you'll tip them back at one of the two spartan taprooms.
Chicago, Illinois
Dovetail's ability to turn classic European-style lagers into some of the most celebrated beers in the country is a testament to two of the brewery's strengths: a proficiency at brewing delicious lagers across a range of styles, and a welcoming attitude that encourages even beer newbies to join the party. It's the rare brewery in that it not only makes beer-flavored beer, but makes it fun. Some beers in Dovetail's lineup are destined to become fridge staples—a Helles, a kolsch, a hefeweizen—while others expand lager lovers' palates into perhaps unfamiliar territory. Grodziskie or rauchbier, anyone?
Morganton and Nebo, North Carolina
Let's keep it 100: When there is word of expansion from your favorite local brewery, there is certainly concern things will become, shall we say, compromised? Not the case with North Carolina's beloved Fonta Flora. Putting Morganton—Asheville's little brother an hour's drive away—on the state's loaded brewery map with their mostly European-inspired creations, it now has a tranquil Whippoorwill Farm addition in nearby Nebo. The applauded series of Lake James adjunct-corn lagers the in-house coolship, aging legion of bourbon barrel-aged stouts, and new canning line further justify Double F is certainly hot. (Addressing the cans, the packaging is consistently captivating thanks to former classmates of brewer and co-owner Todd Boera's Warren Wilson College alma mater.) Fonta's distribution continues to grow with currently Georgia, the Carolinas, and Cali beer lovers fiending for its latest creations. Now that's fuego.
St. Petersburg, Florida
Already kicking ass with its world class Sunshine IPA since 2013, Green Bench's brewing genius Khris Johnson runs this space with a beautiful courtyard separating the original headquarters, which now boasts a state-of-the-art tap room, barrel-aging space, additional foeders, and the ability to increase production three-times the former rate. This swanky addition to the family is christened Webb's Cellar Room, and its Peach Alice sour was arguably one of our most favorite in that style. Green Bench continues to steadily stay ablaze with numerous brewery collaborations for years to come.
Brooklyn, New York
Joe and Lauren Grimm and their team have managed to take what was already an impressive lineup of IPAs, sours, and esoteric takes on classic beers and grow it exponentially. Today, you're just as likely to see world-class schwarzbier, hefeweizen, or pilsner roll out of the brewery. Grimm also helped an already adored and famous brewery expand its fan base at an enviable pace and made its cans a coveted pick-up wherever they're available—especially as even more impressive releases roll out.
Atlanta, Georgia
The ears of hip-hop heads will immediately perk up at the mention of this brewery's name, but Halfway Crooks is more than a crafty reference to the classic Mobb Deep banger "Shook Ones." Founders Shawn Bainbridge, Joran Van Ginderachter, and Tim Kilic realized their dreams of owning a brewery a few years ago with a clever ideology to carve out a successful niche in a steadily booming Atlanta beer scene: focusing on traditional European lagers and ales (especially Belgian styles, thanks to Ginderachter's country of origin). Besides stellar brews always topped with pillowy heads to emulate the tap pours from pubs overseas, Halfway proudly geeks out by showcasing its fascination with computers from yesteryear. The taproom is adorned with old-school monitors and floppy disks, while making computer references like the "Ctrl-Alt-Del" German-style altbier, "Decimals" kellerbier, and "Memory" farmhouse Ale re-fermented with peaches.
Beacon, New York
The amount of good things to happen to Beacon in the past half decade have practically made it synonymous with "quick weekend day trip out of New York City." These days, along with a pilgrimage to the Dia:Beacon, stopping by Hudson Valley Brewing stands squarely atop the list of things to visit there once you get off the Metro-North. That's because this small brewery has become one of the hottest non-Brooklyn can release destinations in the Northeast, pumping out hit after hit from their fermenters. Why? HVB could be considered the flipside to the juicy IPA "haze craze," instead focusing their efforts on innovative sour IPAs that continually push the envelope for the style. Part of the fun of visiting is getting to sample whatever happens to be rolling out that week.
Philadelphia, Pennsylvania
What's behind a perfect taproom experience? Culture, tradition, people, and the best damn beer it's possible to make. Human Robot has all of that in spades, much of it stemming from head brewer Andrew Foss's pursuit of the perfect lager. Quite simply – at any given time, every single one of the dozen beers on tap is flawless. If you want your beer to taste like beer, you can't do better than Human Robot. Plus, word on the street says that if you beat Foss in a chug, he'll buy you a pint.
Avondale Estates, Georgia
Award-winning homebrewing sensation Jon Shari—alongside his wife Aimee—answered the prayers of beer lovers throughout the South by finally opening his own brewery just outside of Atlanta. His celebrated expertise for stouts—the most popular are the Two Little Mice Milk Stout brewed with coffee on nitro at a sessionable 3% ABV and War Beast, a bourbon barrel-aged imperial stout—prove Shari's mastery of the style is undebatable (and they boast daughter Tori's artwork). His expansive lineup poured from the "Faucets of Fatality" includes IPAs, sours, pale ales, brown ales, seasonals, collaborations, and renditions of other styles that wow palates.
Atlanta, Georgia; Birmingham, Alabama; Nashville, Tennessee
It's always enjoyable telling the story of how Atlanta-based trio Jonathan Baker, Joel Iverson, and Jeff Heck started brewing and pouring their latest homebrew concoctions for close friends after their Bible study meetings on Monday nights before taking it to the next level. Besides the two locations in Georgia's capital, Monday opened Social Club, a 10,000-square foot taproom in Birmingham in 2020, and, as a birthday gift to themselves for successfully turning 10 years old, it just gave Nashville some love with another 25-draft taproom in September called Preservation Society. With brewmaster Peter Kiley flexing his liquid mastery with award-winning sours, IPAs, lagers, and decadent stouts to name a few varietals, there's no telling what the next move is for these enterprising gents. Just know they're always up to something dope to make every day, including Mondays, feel like the weekend.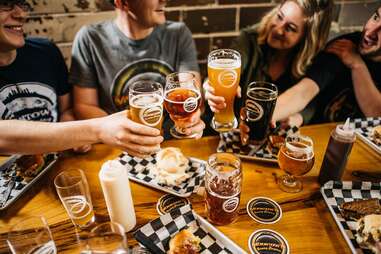 Whitestown, Indiana
Racking up no fewer than three medals at the 2021 Great American Beer Festival certainly put Moontown on the map, and earned Moontown brewer Cody Peczkowski the "501–1,000 Barrels Brewery and Brewer of the Year" title. The awards came in technically tough categories, too—cream ale, bock, and Bohemian-style pilsner—all delicate, nuanced styles that take expertise and attention to detail to brew at that level. The brewpub itself is a standout: Located in the 10,000 square foot former Whitestown High School gym, it's still got the trophies and hardwood, but has swapped out the basketball hoops for a barbecue-focused menu (with vegetarian options). Indianapolis Monthly even named it a best new restaurant in 2020. This team really likes winning.
Dallas, Texas
Step into Michael Peticolas's court and prepare to get served; he is bar-certified and, at 9% ABV, his Velvet Hammer will put you away. This Design District outpost has a range of areas to congregate, from a game loft with ping pong and air hockey to an appropriately damp tank room. That's where you'll find the brewery and it's adoring fans. Count on an English Premier League soccer game on the big screen, which pairs nicely with the Royal Scandal English pale ale.
Check out some of the best craft breweries in Dallas-Fort Worth.
San Diego, California
Pure Project's entire oeuvre is unique. It was started in part by a Californian couple who returned to the Golden State after spending years in the Costa Rican jungle and felt inspired to imbue the spirit of the country into a brewery. As a result, many of the beers feature floral and tropical notes like hibiscus that you might not expect. But that doesn't mean Pure Project's success is based on gimmicks. Before finishing its first year of operations, Pure Project had brought home a bronze medal from the Great American Beer Festival for its Roses Red oak barrel-aged Flanders red ale.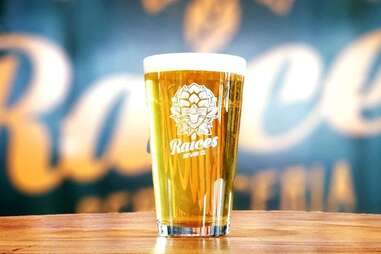 Denver, Colorado
Sometimes it's not only about the beer. At Raices, CEO José Beteta's brewery that began as his University of Denver research project, beer supports the local Latinx community which has been woefully underrepresented in the world of craft brews. Beteta set out to change that, while building a brewery that, of course, pours some damn fine suds. The Caribbean series doles out new fruited kettle sours (right now it's guava); Celebración is a session champagne beer that's all crisp and chuggable; and, no surprise, find a light Mexican lager brewed to the tune of a Czech-style bohemian pilsner. The list goes on. For food, the Latin-owned spot serves up typical taproom fare—pretzels, pizzas—but it's the pollo, carne, or espinaca empanadas you want alongside a pint.
Portland, Oregon
This enigmatic brewing project started as a ghost brewery inside an already established brewpub. When the proof of concept proved successful Ruse Brewing began stepping out of the shadows setting up in a former fireplace manufacturing warehouse in an unassuming part of town. The taproom outfitted with oak-foeders and hand-blown glass became an eccentric space of curiosities like a strawberry basil sour and a mixed culture saison brewed with a blend of funky and wild yeasts. But the key to communicating their softly spoken liquid language to the public was a Translator IPA that proved a mystical transmogrification of hops. Ruse Brewing embraced IPAs outside of the box that don't identify as either clear or hazy. The approach is flavor first, bitterness in check, malt in the background, and aromatics up front. Since winning numerous medals, Ruse feels like they have solved the rubix cube to success.
Littleton, New Hampshire
Many hyped breweries have amassed weekend lineups on the back of a hazy IPA (or three), pastry stouts, or over-the-top smoothie-style fruited sours. But every once in a while, beer fans choose to flock to producers taking a more traditional approach. Schilling Beer Company may have been around in 2013, but a relatively recent expansion in distribution has made their "modern European-inspired" beers the talk of the Northeast. Instead of dank hop bombs, the brewery focuses on Old World-style lagers, Belgian-inspired ales, German-style fruited goses, and plenty of farmhouse ales with a nearly impeccable success rate.
Ava, Illinois
Before there were foraging tutorials on TikTok and $40 "wild harvested" mushroom courses on restaurant menus, a quirky brewery in southern Illinois was quietly bringing about a revolution in American brewing. Nestled five miles from the Shawnee National Forest—but down a gravel road so the brewery feels like it's in the forest—Scratch is a pioneer of foraged ingredients and farmhouse brewing. (Owners Marika Josephson, Aaron Kleidon, and Ryan Tockstein literally wrote the book on the subject, called The Homebrewer's Almanac.) Whether Scratch is brewing with locally gathered strawberries, sassafras leaves, wild cherry bark, persimmons, or Illinois-grown hops, its beers are consistently evocative, singular, and beloved by those lucky enough to taste them. Visiting the brewery itself is a true pilgrimage.
St. Louis, Missouri
Though owner/brewer Cory King says he's an old man in brewing terms, demand for his barrel-aged creations is as strong as it was when the brewery became its own self-contained business—a side project no longer. The brewery produces barrel-aged stouts, with a return of the vaunted Beer:Barrel:Time, an adjunct-free bourbon barrel-aged imperial stout. Side Project has even spawned its own offshoot called Shared, an outlet for its brewers to develop new recipes for non-barrel-aged beers.
Hudson, New York
Hudson Valley has been a veritable hotbed of breweries for the past decade, but few have been able to pull off Suarez Family Brewery's levels of success. With a lineup famously devoid of any trend-chasing styles, the brewery has focused on unfiltered German-style lagers, mixed fermentation ales it calls "country beers," and Crispy Little, which is essentially a lower ABV pale ale since opening in 2016. Since then, releases include the perennially popular Palantine Pils and Bones Shirt black lager, which have endeared them even more to beer fans across the Empire State who are lucky enough to get their hands on a can or a pour. The attention to quality control and perfection of products has all but assured their beers will remain some of the most sought-after in the industry for years to come.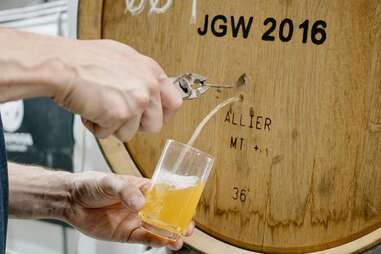 Milwaukee, Wisconsin
Milwaukee might not have much aesthetically in common with rural Belgium, but Supermoon has a small, family-owned sensibility that feels true to the farmhouse traditions of European breweries. Oh yeah, and the beer has similar vibes. For the past couple years, brewer/owner/basically-one-man-show Rob Brennan has sold bottles of what he describes as "rustic, funky and barrel-fermented beers" out of a small brewery space in the Bay View neighborhood. Almost all of them are aged in oak (there's ample use of wine and gin barrels, in particular), and many also receive fruit or intriguing dry hop additions. After a long COVID-related delay, Supermoon is set to open its taproom this October, bringing those nuanced, one-of-a-kind beers to—if not the masses—then at least a few more people.
Salt Lake City, Utah
Utah is known for a lot of things—craft beer isn't one of them. When Kevin Templin moved from Maine it was primarily to become a ski bum, but after about four years he started Templin Family Brewing in 2018 with his wife, Britt. There, they showcase classic industrial-style lagers in an open brewhouse-and-taproom setting. For Templin, it's all about the slow pours on a clean cold fermented pilsner with the densest meringue-like foam you have ever put your lips to. Sure, T.F. Brewing might get down with a juicy IPA dusted with thiol-boosting phantasm powder sourced from New Zealand-grown Marlborough Sauvignon Blanc grapes, but it will damn sure be poured through a slow pour flow controlled faucet.
Los Angeles, California
Brewemaster Alexandra Nowell is a leader in the California brew scene, and her expertise is on display in beers that come out of their Inglewood taproom and will soon arrive at their upcoming SoFi stadium-adjacent outpost. The bright and fruity Expatriate IPA leads the line, with citrus-forward Cloud City Hazy IPA representing another solid choice, but we recommend that newcomers start with the easy-to-drink, malt-driven Deep Roots amber ale. Whatever you decide to order, trust that it'll pair well with nearby Randy's Donuts.
Exeter, Rhode Island
It seems as though there's no shortage of things for Rhode Island beer lovers to be proud of these days: Tilted Barn, it turns out, is a place that can give them more than one. Ambitiously starting as a hop-growing operation on a cofounder's family farm, Matt and Kara Richardson have since taken to brewing beer for themselves with some unquestionably great results. After all, having access to home-grown hops is bound to produce beers by the likes of The Other One DIPA and Milo's Phoenix IPA (although, after all when visiting a barn, you shouldn't sleep on the spectacular farmhouse ales they pump out either).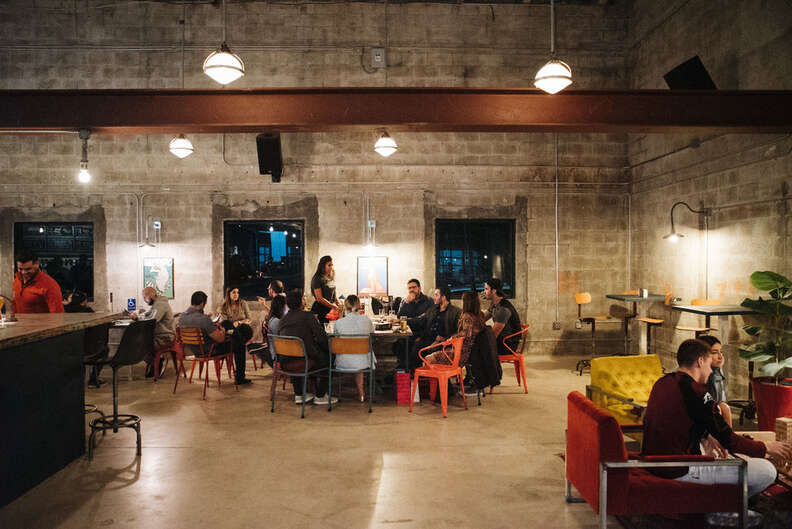 Doral, Florida
Venezuela has never been renowned for craft brewing thanks to the dominance of light-bodied lagers, but that never deterred the brewing passions of natives Juan Manuel Torres, Daniel Chocron, Ignacio Montenegro, and Iker Elorriaga. The experimentation with different styles in a garage eventually led to relocation in the U.S. to hone their skills and eventually launch a 15,000-square-foot, industrial-chic production facility, taproom and pet-friendly "Animal's Roots and Rock Garden" patio in downtown Doral. The Tripping crew has a knack for tapping into the community with the help of a welcoming staff, festive atmosphere, and lip-smacking menu from Meat N' Bone. Oh, and of course, there's an adventurous variety of solid brews including IPAs, pilsners, and the claim to fame—fruited sours.
Waunakee, Wisconsin
Untitled Art colors outside the lines—in a way drinkers can't get enough of. Pushing the boundaries of flavors and beverage styles, fans can always expect the unexpected, whether it's a non-alcoholic Italian pilsner, an imperial strawberry shortcake-flavored smoothie seltzer, a new release in its line of Pixy Stix-inspired hard seltzers, or blackberry-flavored CBD sparkling water. Yes, the brewery makes beer, too, but expect it to also pack the food-focused flavors. Exhibit A: Black & Blue Chocolate Chip, an imperial stout with blackberry and blueberry puree, cocoa nibs, maple syrup, and milk sugar. When Untitled Art does release a more classic style—a West Coast IPA or 95-calorie light lager—it can similarly feel like a curveball in contrast to its more wild concoctions.
Weymouth, Massachusetts
A lot has happened since Vitamin Sea opened the doors to its taproom three years ago. Luckily, it's mostly involved living up to the hype it generated in the early days. What began as a go-to option for some of the most sought-after cans in Massachusetts has blossomed into a regional powerhouse bordering on household-name status, thanks in no small part to a seemingly undying devotion to collaborating as much as possible with other reputable breweries. And it's not just hazy IPAs and rich stouts that result from these meetings of the minds: beers like Dino's Eulogy—a beautifully balanced banana lager brewed as a project with the beloved beer masters at Other Half in New York City—show that anything is possible when you put your mind to it.
Greeley, Colorado
Weldwerks makes one of the most popular new-wave New England-style hazy IPAs called Juicy Bits, which has beer fans lining up. But even that might have been surpassed in beer-geek buzz by the GABF gold-medal winning Medianoche barrel-aged Imperial Stout. These days it's all about the DDH single-hop variations of Juicy Bits. No, DDH is not a hot new street drug, it's the abbreviation for double dry-hopped beer. This addictive technique involves teabagging a fermented beer with bags of whole hops not once, but twice. Untappd beer nerds are tripping on this addictive technique for getting the dankest buzz out of hops.
Columbus, Ohio
Ever been in a bustling taproom and said, "Wow, I wish this were a more elevated experience?" Or been in a refined atmosphere and said, "Let's get the party going!" At Wolf's Ridge, you get the best of both worlds. Half craft brewery, half award-winning restaurant, Wolf's Ridge is the type of place where you can get a Citra-hopped IPA and drumsticks with Firecracker sauce or a Buchenrauch smoked lager and a braised rabbit leg with grits and chestnut velouté. What's chestnut velouté? Absolutely no idea. But no matter what you get at Wolf's Ridge, you can trust that you're in good hands.