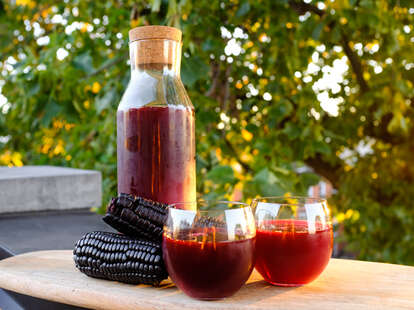 Photo by Andrea Devoto for Thrillist
Welcome to 
Recipes to Remember
, a collection of passed-down recipes that remind us to gather around the table, share a meal prepared with our own hands—or, perhaps even better, the hands of our loved ones—and simply enjoy each other's company. As the holiday season arrives, let's try new-to-us recipes and make lasting memories along the way.
Every time my family from Peru visits us in Puerto Rico, I get excited about all of my favorite Peruvian drinks and snacks, such as chicha morada. This ancient drink is like a Peruvian's second blood—life force in deep violet. 
If you visit Peru, there's no way you're going to miss this purple drink because it is  served at any kind of restaurant around the country and street vendors, too. You can find it in different varieties—natural or artificial—depending on where you get it.
But what exactly is this drink made of and where does it come from?
The Real Academia Española (RAE) describes chicha as "an alcoholic beverage resulting from the fermentation of corn in sugar water, served in various countries in America." It was used as a medicine prior to the Incan Empire and later consumed to celebrate their ceremonies. But chicha morada is one of the varieties of non-alcoholic chichas served around Peru. Although it's not a fermented drink, according to researcher Sergio Zapata Acha's book Dictionary of Traditional Peruvian Gastronomy, it was a slightly fermented beverage at one point in time.
Now chicha morada is a beverage generally made with boiled purple corn, pineapple skin, red apples, cinnamon, and cloves. Once filtered, sugar and lemon juice are added before serving. The result is basically an agua fresca that is equally refreshing and a cozy drink that can be paired with any dish and even served as an alcoholic cocktail, like a chicha morada pisco sour.
 
Purple corn comes from the Andean region of Peru and it is responsible for the famous deep purple hue that makes chicha morada visually stunning. Although this ingredient doesn't necessarily enhance the flavor of the drink, studies have shown that the corn's pigment acts like an antioxidant that could help to reduce the risk of cholesterol, high sugar levels, inflammation, and more.
Even though chicha morada is the simplest thing to make, it hasn't stopped brands from mass producing it with powdered artificial flavors, canned soft drinks, or even as a concentrated syrup. All of the above are good, but I'm sure that if you ask any Peruvian, they would agree  that nothing beats the one made with its natural ingredients and the love from the person making it — especially if it's from la mami, la tía, or la abuela.
Here in the United States, chicha morada can be found on some Peruvian restaurant beverage menus, but if you want to make it at home, finding the dry purple corn is a little bit of a challenge. Luckily for me, I found a supermarket near me that sells it so I've been incorporating it as part of my staple pantry products.
Now that I've mastered my mom's recipe, I wanted to experiment with it by turning it into a cocktail. For that, I reached out to Lynette Marrero, the creator of my favorite chicha morada cocktail from Llama Inn, a modern Peruvian restaurant in Brooklyn, to get some guidance on how to make my own.
"[Chicha Morada] is refreshing in the summer and the winter because the spices are perfect for winter foods," Marrero says. She was introduced to the purple juice and its flavor by chef Erick Ramirez and thought that it tasted like wine and sangria the first time she tried it.
Chicha Morada
Ingredients:
Directions:
1. Place all ingredients into a shaker, add ice, shake.
2. Strain into a glass over fresh ice.
3. Garnish with a lime wheel.
Chicha morada juice
Ingredients:
1 pound dried purple corn
skin of 1 whole pineapple
2 red apples
5 cloves
2 cinnamon sticks
5 cups of water

¼ 

cup lime juice
4 tablespoons sugar (or to taste)
Directions:​​​​​​​
1. Add water, purple corn, the skin of the pineapple, apples, cloves, and cinnamon sticks to a large pan and boil for 40-50 minutes. Then drain the liquid into a jar until cool. Place it in the fridge. Once cold, add the lime juice and sugar to taste. If the juice is too concentrated, you can add more water.
2. One of the best parts of making this recipe is that your entire home is going to smell like waking up on a holiday morning and your mom is baking some delicious treat for the family to enjoy.
Sign up here for our daily Thrillist email and subscribe here for our YouTube channel to get your fix of the best in food/drink/fun.
Andrea Devoto is a journalist and content creator born in Peru, raised in Puerto Rico, and currently based in New York.