Going to a Winners or Marshalls store is like a treasure hunt. You never know what you may find, and the makeup section is no exception! You'll likely find a mix of high-end products locked in a box – to makeup that looks to have already been touched and put on additional clearance (we recommend leaving those specific products behind). If you look close enough, you may just find some great holy grail makeup products at a steal while browsing the Winners/Marshalls' beauty section. 
Here are some of the top makeup finds we found at Marshalls!
MAC's Fix Plus is a staple product in so many people's makeup collections! So it was a little surprising to see it sitting on the shelf at Marshalls. But we definitely aren't complaining. It usually retails for $39 and Marshalls was selling it for just $24.99 – and had plenty stocked.
MAC Powder Kiss Lipstick
Speaking of MAC, there was actually a decent amount of the brand's products to go around. Including this lipstick in the shade Mandarin for only $12.99, compared to its normal price of $31 at Sephora. It's such a perfect colour for summer too!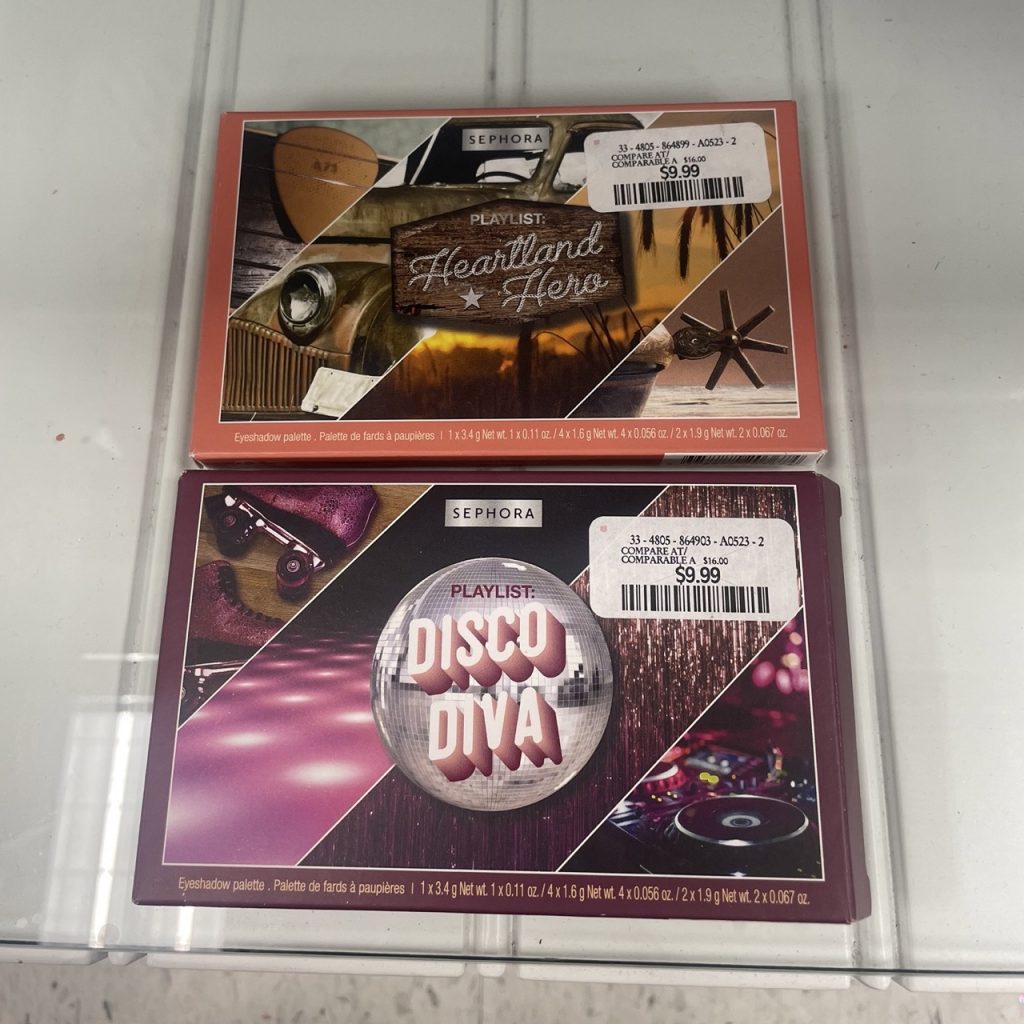 Next, we came across a couple of eyeshadow palettes from Sephora Collection. Sephora Playlist; Heartland Hero and Disco Diva. At Sephora, the palettes retail for $20 each, and Marshalls had them for half of that price!
Revlon Colorstay Moisture Stain
Although Revlon is a drugstore brand, you can usually still score at least a couple of dollars off while shopping its products at TJX. We were loving this shade of its Colorstay Moisture Stain (015).
Another product we were surprised to see on the makeup shelf was Huda Beauty's Easy Bake Powder! Is this product not currently viral?! In true Winners/Marshalls' fashion though, it only had the one shade. But hey! A win is a win.
If you're a fan of the Too Faced Chocolate Soleil Bronzer, check out your local Winners or Marshalls! There was plenty of its Dark Chocolate shade to go around at the one we visited.
If you've never tried Clinique's eyeshadows they're totally worth a try! Especially if you can find them for a steal like we did. The quad version of Clinique's All About Shadow retails for $47 usually, and it was on sale for $16.99!
Lastly, we came across some Jaclyn Cosmetics products. We aren't going to lie – we've yet to try out any of Jaclyn's products yet, but if you were wondering how they perform, what better way to test it out than grabbing at Winners/Marhalls!?
Articles You Might Be Interested In
9 Places To Shop For Affordable Clothes In Toronto
7 Of The Best HomeSense Locations In The GTA
A Massive New WINNERS Store Is Now Open In Mississauga
8 Cult Beauty Brands You Can Find For Less At WINNERS
6 Tips To Have The Most Successful Shopping Trip At WINNERS & Marshalls