For those who can't make it to the grocery store or just need a little more convenience when it comes to mealtime, meal and recipe delivery services are here to save the day. Over the years, new companies have popped up, offering fresh pre-made dishes and pre-portioned ingredients that are time-saving and delicious.
Here are the best meal kit delivery services in Canada.
Canada-Wide
Note: Not all of these delivery services are available throughout Canada, check their delivery areas before subscribing to avoid disappointment.
HelloFresh is probably one of the most popular meal delivery services in Canada right now. There are three different plans, with prices starting at $4 a serving. Perfectly portioned seasonal ingredients are shipped straight to your door and you cook up the meals at home. You can choose three to four easy-to-follow recipes a week, minus the hassle of a grocery store visit.
Similar to HelloFresh, Goodfood sends pre-portioned ingredients straight to your door. Each week, you choose the recipes you want to tackle and they'll deliver for free. The meals cater to all different tastes and cooking levels, so even novice at-home chefs can master these. You can order two to four recipes per week, with prices starting at $5.58 a meal. If you're a first-time client, you'll get three meals for free.
Another recipe delivery kit to check out is Cook It, which delivers within Eastern Canada. With this service, there are 16 recipes to choose from, and fresh ingredients are sent to your doorstep weekly. There are a variety of different plans to choose from, with servings starting at $7.75. The best part? You can pause or cancel your plan at any time with no consequences.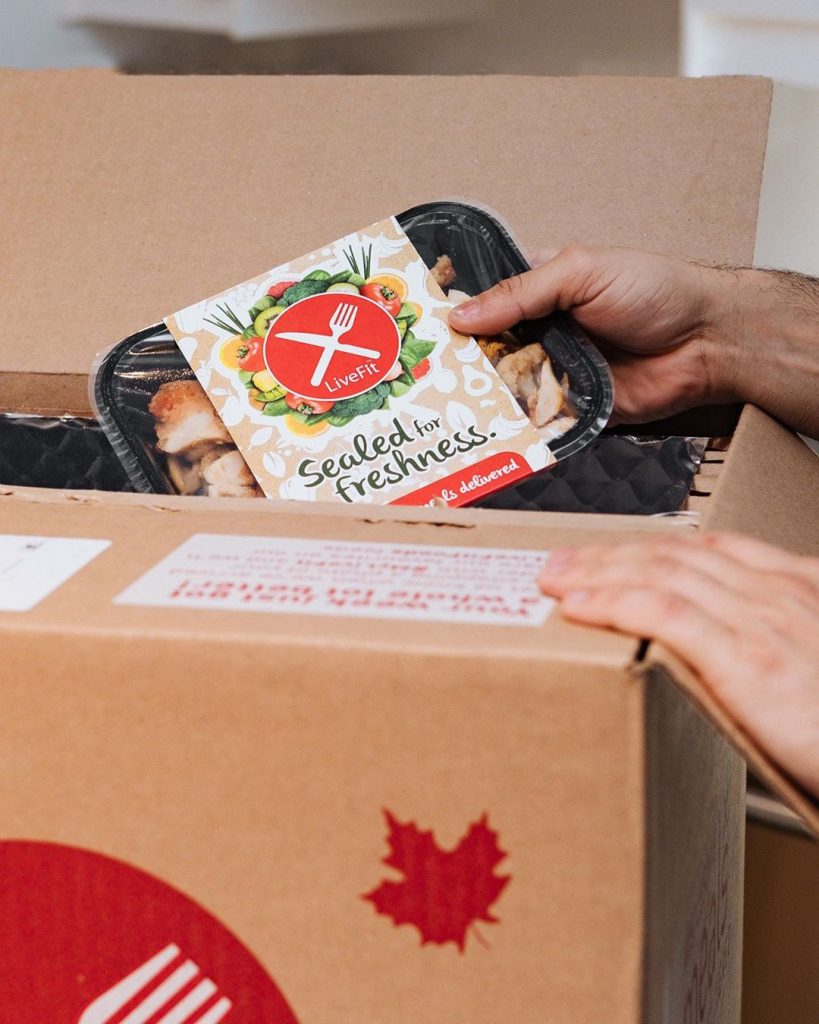 LiveFit Foods is a perfect meal delivery service in Canada for those eating with a goal in mind. Whether you're looking to lose weight, gain muscle, burn fat, or have a keto, halal, vegan, veggie, or gluten-free diet, LiveFit Foods has a program for you. The meals — which span over breakfast, lunch, dinner, snacks, drinks, and even kids — are pre-made for extra time-saving. Weekly packages start at $96.
Heart to Home Meals specializes in delivering nutritious foods to seniors! The company's Consultant Dietician works closely with the chefs to develop awesome meals that support the nutritional needs of seniors. Check out the site and either order online or by phone and the Heart to Home Meals delivery team will deliver right to your door. It currently offers free delivery in most of Ontario, Alberta, Nova Scotia, Saskatchewan, and Manitoba.
Chefs Plate is one of the better-known meal delivery services in Canada. Meals start at $8.99, with three different packages to choose from including a 15-minute meal plan. The menu of meals rotates weekly and you get to choose what recipes land on your doorstep. Plus, you can rest easy knowing that you can skip weeks and save them for later or cancel at any time. First-timers get 50% off their first three deliveries.
Toronto/ GTA Only
With no minimum order or weekly commitment, Meal Fix Canada is a perfect jumping point for those in the greater Toronto area looking to try a meal delivery service. There are three different packages to choose from — 7 meals, 10 meals, and 14 meals — or you can order meals individually. The pre-made meals are healthy and nutritious and you can choose to order snacks, breakfast, lunch, or dinner, with keto, gluten-free, and vegetarian options, too. Packages start at $87.50.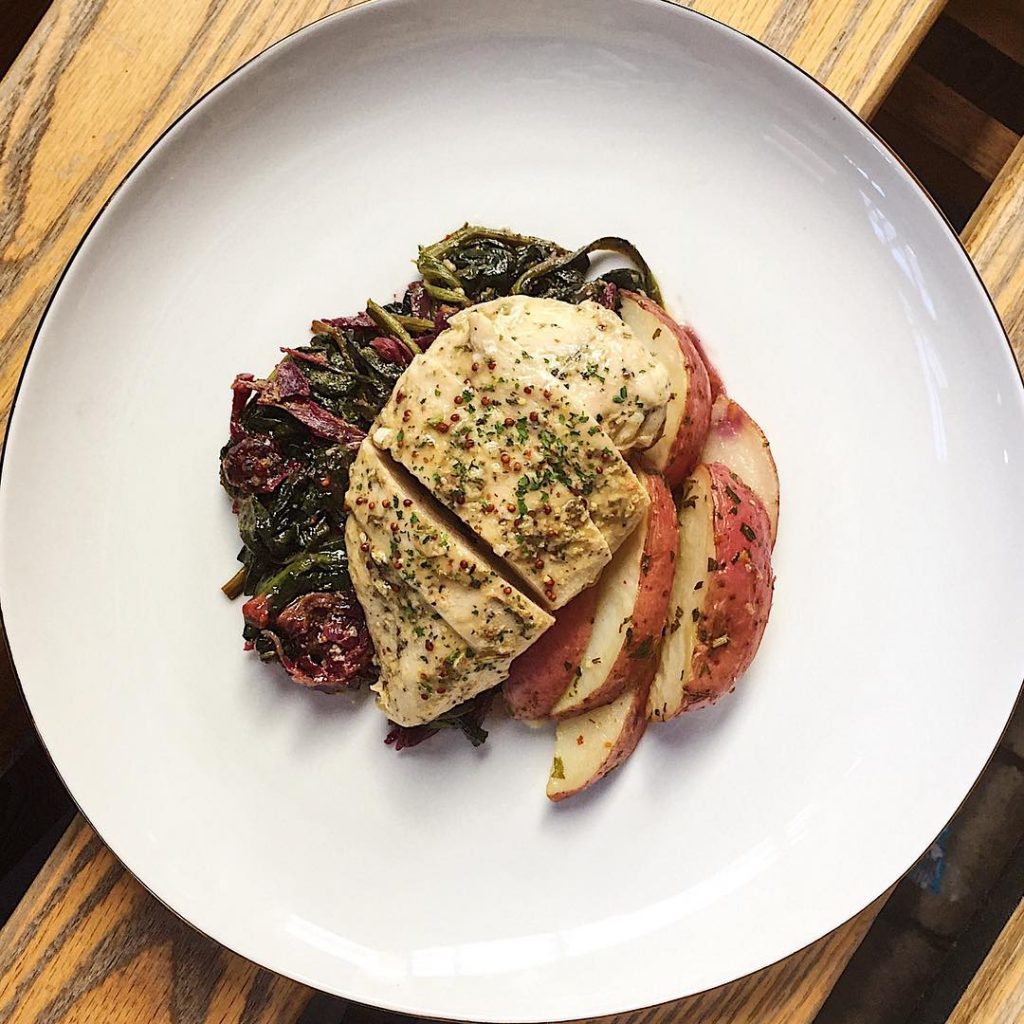 Athlete's Kitchen is perfect for those with busy lifestyles and who eat with intention. They have four different plans: Breakfast; Athlete, ideal for fueling your body through workouts; Nu Paleo, low-carb and packed with good quality fats and protein; Shredding, high-fibre with high-quality healthy fats and no starchy carbohydrates; and Plant-based. The weekly subscription is delivered straight to your door, or you can pick-up from their store in Liberty Village. Just note that a minimum of six meals per week is required.
Based in Toronto, Essential Meal Delivery makes healthy meals and delivers straight to your home. The service works just like a pre-paid phone card — you pre-pay for the meals (which range between $15 to $18 each) and then choose your menu each week. What we love is that each meal can be made paleo or gluten-free at no extra cost and you get to choose what you want from an extensive menu of options. Save 15% on your first 20-meal order with the promotion code "first20".
Another Toronto-based meal delivery service is Power Kitchen. The company has a number of ordering options, so whether you're looking to fully customize a meal, eat with a goal in mind, or share with family and friends, you'll find something to suit your lifestyle. Fresh meals are packed in biodegradable boxes and delivered in 40 cities across the greater Toronto area. Meal boxes start at $70.50 for adults or $40 for kids.
Not only can you get delicious meal kits delivered from Fresh City Farms, but it also offers already prepared meals, fresh produce, and meat and dairy products to enjoy. The company is all about eating healthy, so check out the site for some good food!
Yumba is on a mission to eliminate food waste without throwing away what matters most, and delivering extraordinary meals that you'll love! If you live in Toronto, Mississauga, Oakville, Brampton, Vaughan, Richmond Hill, Markham, Pickering, or Ajax, you'll qualify for delivery. Browse the site for a delicious menu full of mouth-watering options.
Vancouver Only
Fresh Prep's name says it all! The recipe delivery company offers fresh, high-quality meals with prepped ingredients sourced from across Vancouver. You get to choose up to four meals from a weekly rotating menu and it's delivered straight to your door. Prices start at $10.88 per serving, but new customers will get their first two meals for free. Delivery is available in the greater Vancouver area and Victoria.
Saskatchewan Only
ZestyKits is a local meal kits service based in Saskatchewan. We plan, shop, prepare and deliver 3 meals to your door every week. All you need to do is follow the recipes and you'll be creating incredible home-cooked meals every week.
Alberta Only
Rooted is an amazing meal kit delivery service specifically for vegans and vegetarians living in Alberta. Even if you're not vegan or vegetarian, but are interested in the plant-based lifestyle, you're more than welcome to give it a shot. Healthy recipes delivered right to your door!
Articles You Might Be Interested In
7 Of The Best Toronto Food Delivery Apps To Know About
Bulk Barn Now Offers Same-Day Delivery Across Canada
17 Retailers You Can Shop Online That Offer Free Returns
Here's How To Get Free Stuff From All Your Favourite Brands
7 Apps To Download To Help You Save Money At The Grocery Store